Despite significant improvements in the domestic testing programmes in countries categorised as being the highest doping risk to the sport under the World Athletics Anti-Doping Rules (Anti-Doping Rules), 18 athletes from the final entries for the Tokyo Olympic Games are not eligible to compete because the minimum testing requirements under Rule 15 of the Anti-Doping Rules were not met by 'Category A' Federations.
In addition, two athletes from Kenya were replaced by the National Federation prior to the submission of their entries to World Athletics.
Nigeria is the most affected country, not meeting the minimum testing requirements under Rule 15 for 10 athletes.
Under the framework of Rule 15 governing National Federation Anti-Doping Obligations, which came into force in January 2019, National Federations are accountable for ensuring appropriate anti-doping measures are in place in their respective jurisdictions. Among other things, the Rule sets out minimum requirements for testing on the national teams of 'Category A' federations deemed to have the highest doping risk and considered as a threat to the overall integrity of the sport. The key requirement in Rule 15 is that an athlete from a 'Category A' country must undergo at least three no-notice out-of-competition tests (urine and blood) conducted no less than 3 weeks apart in the 10 months leading up to a major event. Only then do they become eligible to represent their national team at the World Athletics Championships or the Olympic Games.
For the year 2021, the seven identified 'Category A' National Federations are: Belarus, Bahrain, Ethiopia, Kenya, Morocco, Nigeria, and Ukraine. The relevant data for the number of athletes from each federation for whom the testing requirements of Rule 15 were not met is set out in the table below: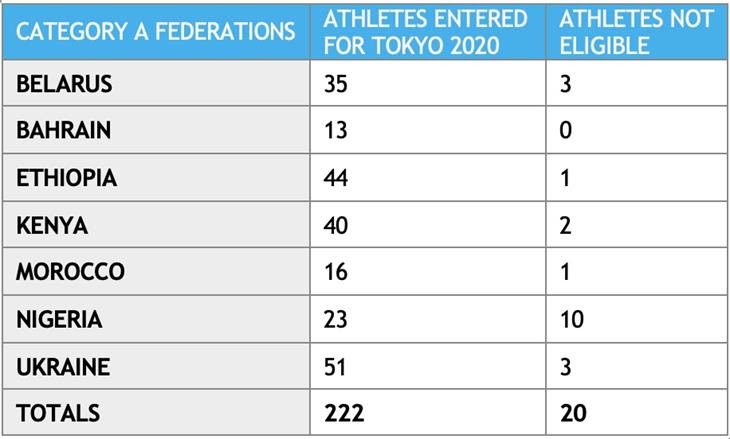 In the lead-up to the Tokyo Olympic Games, the 'Category A' Federations, in partnership with their respective National Anti-Doping Organisations (NADOs), generally made significant progress with respect to their domestic testing programmes. As part of their implementation of Rule 15, several milestones were achieved, some of the key highlights being:
Over 1600 out-of-competition tests conducted in the domestic programmes of these Federations (in addition to AIU tests on their athletes in the International Registered Testing Pool) since the start of 2021.
Aside from serving as a strong deterrent to potential doping, this increased testing resulted in 6 adverse analytical findings, highlighting the importance of strong national-level testing in these Federations.
"National Federations must play their part in supporting anti-doping efforts. The eligibility rules for athletes from 'Category A' countries are very clear and compliance is essential for cementing the required long-term changes and ensuring a level playing field for clean athletes," said David Howman, Chair of the AIU Board.
"I must underline that there have been significant improvements in anti-doping efforts in most 'Category A' countries thanks to this rule. It is clear that the relevant National Federations in conjunction with their NADOs have started to take their testing responsibilities seriously, and I thank them for their efforts, but there remains a long way to go in some circumstances," he added.
Nigeria was included in Category A at the start of 2020 following a continued period of weak domestic testing levels.
___________________________________________________________________________________
Your voice matters! By leaving a comment below, you have the opportunity to share your thoughts and opinions with a wider audience. Your comments can contribute to meaningful discussions and bring new perspectives to the table. So don't be shy; scroll down and leave your comment now. Your input is valuable and appreciated!
___________________________________________________________________________________
Join the conversation on Facebook (@facebook.com/trackalerts), Twitter (@twitter.com/trackalerts), Instagram (@instagram.com/trackalerts), TikTok (@tiktok.com/trackalerts), and Youtube (@youtube.com/trackalertstv). You will be the first to know about our exciting updates, events, and special offers by being a part of our community. Don't miss out; click the links now!